Positive: Professionalism, Quality, Responsiveness, Value. If you're reading these reviews, looking for a photographer then you need to stop, because You've found her!!! You will not regret choosing Karin. We had Karin shoot our wedding and we couldn't be happier! From the first message, to the first meeting, all the correspondence in between to the big day Karin was amazing! You won't find better. We love our photos and wouldn't change a thing! Our expectations were met and then some!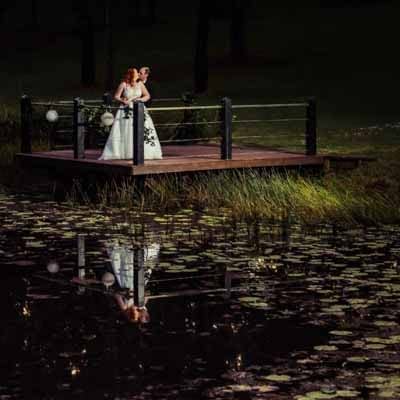 Amanda & Mathew
Check out Amanda and Mathew's wonderful wedding at Honey Bee in Kandanga!
Such a beautiful wedding and Honeybee is such a pretty place to get married. These two were already a family together with their young kiddies, but made it official last April.
Amanda looked absolutely stunning and was just beaming with happiness. The weather was fabulous and with autumn here, it wasn't too hot, which was so nice for a change.
With the preparation running a half hour late, this meant that by the time we did the portrait session, the light would have been pretty much gone. Luckily for the couple I'm not just a "natural light" photographer, and with a bit of trickery managed to get some cool "sunset" backlit photos (check out the ones with the veil)!
The wedding was just awesome and everyone had such a great time. Lots of people dancing on the dancefloor enjoying themselves and before we knew it, it was time to go home.
My sweet Gympie couple hired me for 8 hours, which is great if you want both preps to be covered up to everybody having a boogie on the dance floor.
I wish my beautiful couple, lots of happiness and love in their marriage! XxX Karin
Amanda and Mathew's magnificent day was made possible by: