The photos look great, thanks!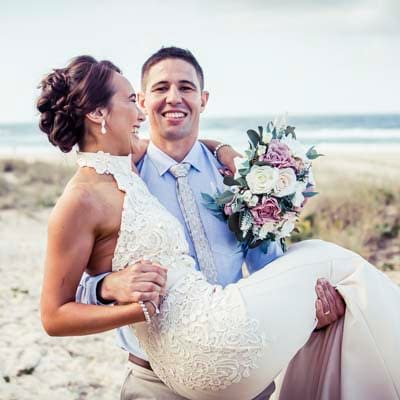 Becky & Alan
Becky and Alan's wedding was just magnificent at Bilinga Beach.
We were super lucky with the weather as the last couple of days it was pouring down. Even on the day itself we still had some rain in the morning but once we reached the afternoon all the clouds decided to keep themselves in the background. As Becky and Alan are originally from England, her parents and many of their friends came all the way from the UK to Australia to be part of their special day. So having their wedding at Bilinga Beach was an excellent choice!
Becky looked absolutely stunning in her slim-fitting dress and Alan couldn't take his eyes off her (can you blame him)! The couple had written beautiful and funny vows to each other and you could just feel the happy vibe in the air. As a surprise, Becky had arranged a cut-out board of their beloved cat to be their ring-bearer. This was a huge success as Alan was so surprised and delighted to see it.
Once all the formalities were done, we left their guests to have some fun on the beach. It was very important for Becky and Alan to have lots of natural and unposed photos with plenty of emotion. These two were absolutely nailing it as sometimes my couples need a bit of encouragement and a few prompts to play with. Not this couple though, everything just flowed so easily and we managed to get truly epic photos.
After the beach-portrait session we headed back to their guests who were already eagerly waiting for the couple. A cool thing that I haven't seen here but is a traditional thing in England is to receive the couple under an arch of hands. As you can see in the photos, Becky and Alan loved every moment of it. The couple had a bit of a break and mingled with their loved ones before they did their first dance.
Soon after, Becky's father gave his speech and during dinner time Alan and Becky had their speeches too. As the couple hired me for a half-day, it was all too soon, time for me to leave but what a wonderful Bilinga Beach wedding! I offer packages for all kinds of budgets so let's talk about your fabulous wedding!
I wish Becky and Alan lots of love and many years of happiness. XxX Karin
Becky & Alan's fabulous day was made possible by:
Venue: Bilinga Beach Weddings
Make-up & Hair: Make up and Style by Alex Anderson
Wedding Dress: Elle Zeitoune Designs
Celebrant: Melissa Mallard
Cat cut-out: Life size stand ups