Positive: Professionalism, Quality, Responsiveness, Value. We will be forever grateful that we chose Karin to photograph our wedding. She understood what we wanted and captured it perfectly. The pictures are stunning and Karin herself was an absolute pleasure. She went above and beyond to get the perfect shot. We would highly recommend Karin for any event that you want captured for prosperity. You will not be disappointed.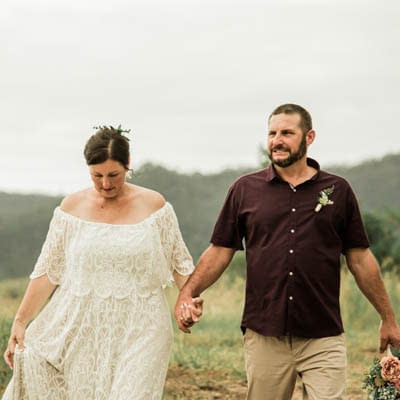 Caroline & Cle
What a day as to how wonderful was Caroline and Cle's wedding at Lake Somerset?!
When I arrived the weather didn't look too great, but that didn't matter as everyone was in such great spirits. The ceremony was so intimate and personal and I loved how Cle was showing his emotions. To me as a photographer, we truly live for this stuff!
After the ceremony, we had some lovely portraits on land, before we headed to the water to have some fun with Cle and Caroline's Half Cabin. Keen for lots of fun and candids shots, I reckon we totally nailed this.
When we came back the family was playing cricket to make the most of the last rays of light. Once the night set, we had our last formalities before it was time for me to say goodbye.
Caroline and Cle chose my 4 hour BOHO package for their special day, which was perfect for ceremony up to first dance, cutting the cake and some speeches.
I wish my lovely newlyweds lots of happiness and sweet moments together in their marriage. XxX Karin
Caroline & Cle's magnificent day was made possible by:
Venue: NRMA Park and Resort
Grooms Outfit: Connor