Karin has this way of making you feel at ease in front of the camera. Her personality makes you instantly relax – we were laughing most of our session! She is extremely passionate about photography and her determination sines through in each photograph. THESE ARE BEAUTIFUL! I love them. Thanks so much! Peter and I cannot wait to have Karin capture our Wedding in October.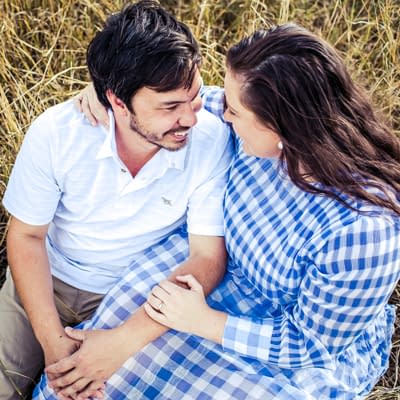 Caitlin & Peter
Meet my lovely couple Caitlin and Peter, who were very keen to have a country engagement session near Gympie.
We went to Peter's lovely grandparents and his parents amazing 2000 acres land at Lower Wonga.
It has always been a desire of mine to have a couple captured in beautiful high grass. So when Caitlin and Peter said they wanted their session at his parent's farm, my wish finally came through. It was great  to do this in winter time as the snakes will be still pretty much in hibernation.
It was so good to be out and about to capture this sweet couple's love for each other. They wanted to bring their dogs along too, which is always a great idea.  So meet Maggie (Basset Hound) and Henry (Cocker Spaniel), two very energetic and happy doggies . 
We had an awesome time and I'm super happy how everything turned out.
I'll see you next month Caitlin and Peter, can't wait to photograph your beautiful wedding at Honeybee Gardens in October! 
For current work, feel free to head over to my Facebook business page. XxX Karin