I highly recommend Karisma Studios. Karin has talent out of this world and the energy to match it! I love my photos!!! Pictures really do tell a 1000 words.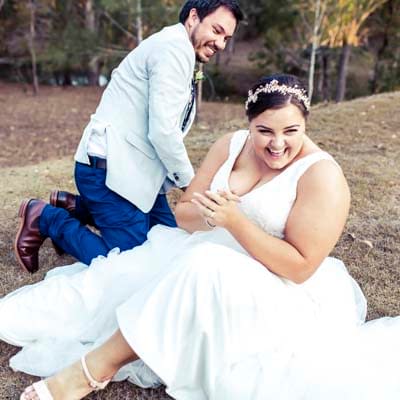 Caitlin & Peter
Caitlin and Peter's wedding at Honeybee in Kandanga was just fabulous in every way!
I met the lovely couple a few months ago when we had our engagement session together.
I always recommend if it's possible to have an engagement session, not only to break the ice but also to see what you both find important to have captured. Caitlin and Peter told me they aren't keen on too much PDA and wanted mostly candid, relaxed and fun photography. The engagement session gave me a good practice run so I knew exactly what they love for their wedding day.
The day was full of love and fun and couldn't be more perfect. Caitlin and Peter received over 1150 photos and were so happy with them. I always make sure I not only cover the "must-have" shots but also all the cute and sweet in-between moments, that get forgotten a lot. Another thing I like to do when you have me for the reception is to go out in the night and take some cool night-time photos, which always have been a huge success!
The lovely couple hired me for 10 hours, which is perfect if you want both preps to be covered up to everybody having a ball on the dance floor.
I wish this sweet couple lots of health, happiness and joy during their marriage. XxX Karin
Caitlin and Peter's magnificent day was made possible by:
Venue: Honeybee
Celebrant: Michelle
Hair and make-Up: A Beautiful You Hair & make-Up Studio
Wedding Dress: Curve Bridal Boutique
Cake: Heaven Leigh Cupcakes