Positive: Professionalism, Quality, Responsiveness, Value. Karin is an absolute gem. Not only was she able to take some amazing photos of our wedding but she made it fun with lots of laughs and capturing all the moments you never want to forget. If anyone needs a photographer, I would recommend Karin over and over again. Her work is 10/10 and her personality is an 11/10. Thank you for everything! 💫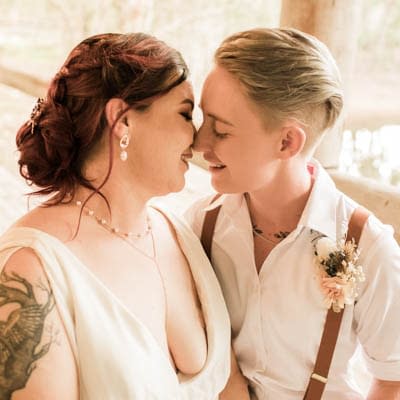 Caitlin & Somesha
Such a beautiful BOHO wedding day, as Caitlin and Somesha got married at the gorgeous Purnella Park Coachhouse.
These two stunners looked both so gorgeous in their wedding attire. Caitlin chose this stunning Grecian wedding gown, while Somesha opted for a stylish outfit with cool suspenders to finish it off.
The weather was pretty dull as we had overcast for the day, but that didn't deter Caitlin and Somesha at all, as they had only eyes for each other!
The couple went with my 2 hour Boho package as they only wanted photos to cover their ceremony, family and couple portraits, which was perfect for this.
I wish my beautiful couple lots of love, joy and happiness in their marriage! XxX Karin
Caitlin & Somesha's fabulous wedding was made possible by: