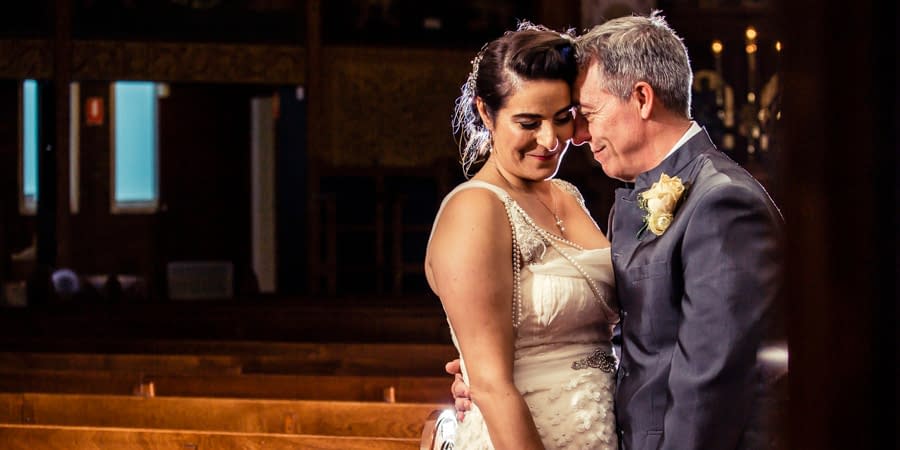 Caterina and Tony's St.George Greek Orthodox Church wedding in Brisbane was heavenly in every way! From the moment I entered this church, I felt I had landed in photography Utopia! I just couldn't get over how stunning and impressive it was. Definitely one of the most beautiful churches I have seen in my life.
Caterina's excitement about her wedding was infectious, lifting the mood of the whole bridal party. Her future husband Tony came all the way from England, having met online through their mutual passion for gaming. Tony looking dapper in his grey suit, raced to the church in this awesome burgundy-red classic Camaro. Caterina followed in a magnificent ice blue BMW, gull-wing doors opening wide to show off the stunning bride. A classic-cut and utterly gorgeous ivory dress completed the look with some bling for extra style. White roses with baby's breath filled the bouquet and were perfect in every way.
On the big day, the weather wasn't the best, although the couple had chosen a church setting for the ceremony and could luckily keep out of the rain. Initially, we planned to go to Redcliffe jetty for the location session. However, because of the downpour, we opted to stay at the church instead. Most importantly, this meant we could use the beautiful interior of the church as our backdrop.
The private couple hired me for 6 hours, which was perfect to capture all their beautiful moments: the ceremony, quality time with family and friends, speeches, first dance and last but not least cutting the cake. Caterina is half Dutch (mum) and half Greek (father) and the wedding just wouldn't be complete without Greek dancing. The atmosphere was so electric, I almost wanted to join in the fun, rather than just documenting it. 😉
 I thank Caterina and Tony for choosing me as their wedding photographer. It was a special day and I wish this beautiful couple many years of joy, laughter & happiness! XxX Karin
Church: St.George Greek Orthodox Church
Thank you for the exceptional service you provided as photographer for Tony's and my wedding. I felt reassured from our first meeting when you asked about the details of our day, location and the photos we wanted. You were so easy to communicate with and I really appreciate that. I was impressed by your preparedness for unexpected weather conditions, as well as your flexibility and adaptability. Your ability to interact with and direct our guests for the photos was done efficiently and was a lot of fun. Our guests really loved your energy as much as we do. You really captured the atmosphere of our special day and added a touch of magic with the lighting and editing. Your professionalism is second to none and I would recommend you to anyone who needs a photographer to capture their special day. I can't thank you enough Karin, you were simply amazing! A special thanks for bringing calm and fun as well as your amazing photography.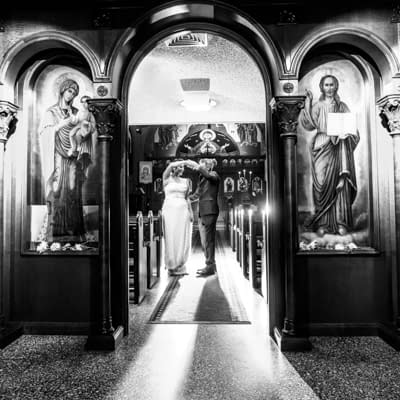 Caterina & Tony