Karin is such a beautiful and down to earth lady. We thank you so much for being apart of our wedding day! On the 26th of September.😍 You were absolutely amazing on our day. You were bouncing with energy, were so hardworking and professional. We so exciting to see the photos we truly had the best day. ♥ Thank you for your kindness, quirky sense of humor, patience and being awesome and fun. The boys enjoyed your company too. Highly recommend you to anyone 🙂 💫♥💫 Lots of love Ryan and Chloe 😊💕 Mr and Mrs Barns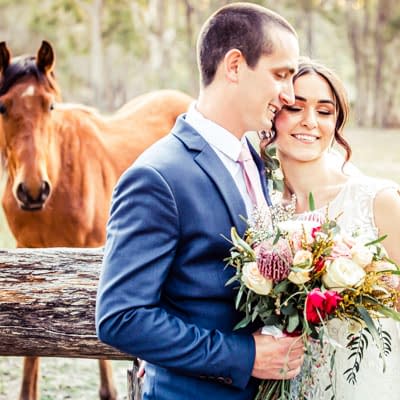 Chloe & Ryan
Karin, your photography skills are amazing, as a member of the bridal party, that day was so much fun, every laugh and smile was genuine from the happiness and energy you brought that day! Was lovely to relive the memories reading this post. Would definitely recommend you to any future brides and grooms looking for a wedding photographer xx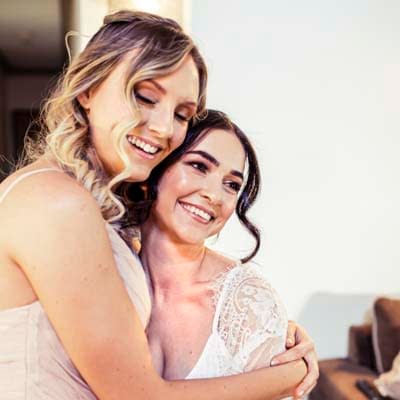 Emily (Bridesmaid)
Chloe and Ryan's stunning wedding at Purnella Park Coachhouse in Hervey Bay started my wedding season off with a big bang!
For 6 months all my clients had to either postpone or cancel their weddings due to COVID. To say this has been a very interesting year for wedding photographers including myself is an understatement.
It was so wonderful to be back in the game again, but also a bit scary. When you haven't been photographing weddings for such a long time, I was worried I'd lost the touch. More so, weddings are such a fast-paced environment, there's no time for error. Luckily it's like riding a bike (which as a Dutchy you never forget lol) and it was such an awesome day to get back into the swing of it.
Chloe looked absolutely stunning and was so calm and beaming with happiness when I arrived. Chloe had hired this gorgeous Airbnb in Hervey Bay, which complemented her wedding so well. Having a nice prep area sometimes gets forgotten, but it's so important if you're having your preparations photographed by a pro. it just adds that extra finesse to your photos, something that mustn't be overlooked if you decide to hire me for the whole day.
The girls were just so fun and lovely and it was sweet of Chloe to buy gift boxes for their parents and bridesmaids.
As a photographer knowing that your couple not only wants candid photography but also beautiful creative shots, it makes my heart sing because I love to create something special for them.
Purnella Park Coachhouse has so many beautiful spots for these photos and Chloe and Ryan were just lovely together. I always make sure, your photos aren't too posed, I actually use a lot of prompts to get still a natural feel in the photos. The wedding was such a huge success and I'm so happy for Chloe and Ryan they were able to have their dream day.
As Chloe and Ryan chose my 8-hour package for their special day, it pretty much covers prep till a couple of hours into reception. I wish my gorgeous couple a beautiful life together and maybe one day, I can photograph the next chapter of their lives. XxX Karin
Chloe & Ryan's magnificent day was made possible by:
Venue: Purnella Park Coachhouse
Celebrant: Christine Smith
Airbnb: BayDream Luxury Private Retreat Villa 
Make-up: Leah Harvey
Hair: Delish Hair Creations
Brides Dress: Luv Bridal and Formal
Flowers: Susies for Flowers
Cake: Selina's Cake
Videographer: Vistar Productions
Cut-out "Instagram" Board & Wooden Wedding Signs: C&K Weddings and Events