I can't recommend Karin highly enough. We had such a fun day doing photos with her and the products took our breath away. A truly talented artist.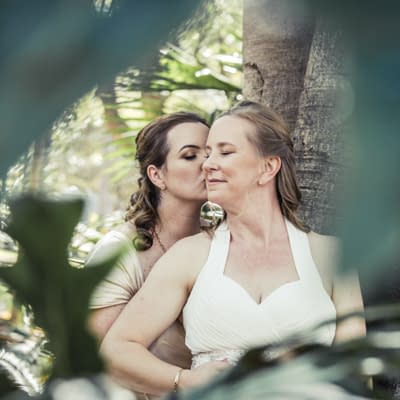 Georgina & Penny
Georgina and Penny's Brisbane registry elopement, where do I begin?
These two stunners are such beautiful souls, inside and out! Being very down to earth people they wanted a small and intimate wedding with just a few of their loved ones to celebrate the occasion.
This sweet same-sex couple met each other through Shannon 6 years ago, who's not only Georgina's sister but also a good friend of Penny's. It was pretty much love at first sight and it didn't take long before the two were inseparable. After a few years, they extended their gorgeous family with two adorable kids.
During our meeting it became quite clear, my couple wanted to have lots of photos of their kiddies. With that in mind and because their kids are still quite young, we decided to have a session in King Edward Park. The beauty was that it was right beside their hotel. This way there was no stress. Plus their beautiful little family was able to enjoy each other's company without feeling too rushed or try to divide their attention.
After the park session, it was time to get dressed. We headed to the Registry where all their loved ones were waiting for them to say "I do". It was such a touching ceremony, with Penny tearing up (I can't help but love these raw emotions so much!) It was short but sweet. Once everyone had congratulated the newly wedded couple I always to take 1 big group photo. We also had a few other family photos afterwards before heading back to the park.
As it was pretty much noon by then, I had to make sure we found some shady spots for our photo session. The reason for this is the sun was right above us and we don't want to get squinty raccoon eyes! I love it when my couples feel comfortable in front of my lens. Even though they weren't keen on lots of PDA, I did manage to capture a little kiss or two. If you don't feel like a long ceremony or whole day wedding, I can recommend having a Registry elopement. I offer all kinds of packages so there's always something for someone.
I wish Georgina and Peggy a wonderful life full of happiness and love with their adorable kiddies! XxX Karin
Georgina and Penny's fabulous wedding was made possible by:
Brides' prep: Mantra on Edward
Ceremony: Brisbane Registry
Make-up & Hair: RER make-up
Wedding Dresses: Wendy Makin Bridal