Clayton and I were hoping for a photographer that would not be the norm, who would be left of field, be inspired by the amazing surroundings of our wedding and create magic in her shots which We were beaming to each other the whole day. We are so thrilled we got this collaboration with Karin and the photos took our breathe away. As a details person Karin understood my vision and worked her own boundless creativity into our wedding day. Karin is incredibly skilled, understanding, productive and dedicated to provide a level of reflection of artistry We could only have ever hoped for. Thank you Karin for your incredible eye, dedication and support you gave to us for our same sex marriage celebration. with much appreciation and Love, Greg.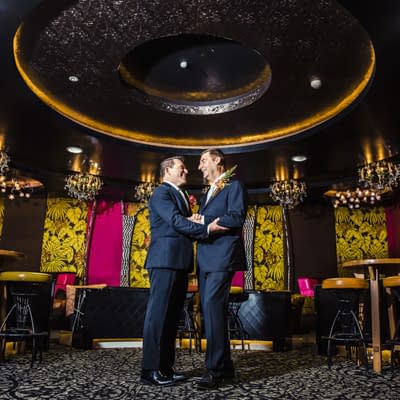 Greg & Clay
This Brisbane Cloudland same-sex wedding was nothing short of class and opulence.
When I entered Cloudland for a moment I thought I landed in photography heaven! This place is out of this world so stunning. The decor and finishing touches were really on par. Such a magnificent place to get married so Greg and Clay choose their venue well. 
They have known each other for at least a decade so love sure runs deep in these two love birds. The boys had heartfelt vows to each other and the day couldn't have been more perfect.
Greg really wanted to get some photos in the cellar so good job I shoot both styles (natural and flash). The cellar was so dark that without a flash it was pretty much impossible to get a good shot there, but we're all so thrilled what we created together as we got some EPIC shots! The couple hired me for a few hours. They really wanted the ceremony captured, the portrait session, and having a great time with their loved ones. I offer many different packages as I believe no 2 weddings are the same.
I wish my beautiful couple lots of happiness and love. XxX Karin
Greg & Clay's fabulous day was made possible by:
Venue: Cloudland
Grooms suits: Tony Barlow
Buttonholes: Your Pick