Positive: Professionalism, Quality, Responsiveness & Value. Karin is a joy to work with, full of great energy, uplifting and committed. She'll dance to put a smile on your face and does plenty of miles running around to get the perfect, candid, shots. Nothing was too much of an ask, and most importantly Karin did everything as promised. What she says is what she does, and she keeps you informed at all times. Karin took great care of us on a special day and we don't hesitate to recommend her as we would use her again in a heartbeat x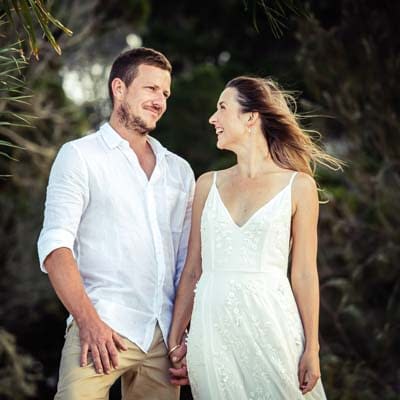 Jessica & Christoff
Simplicity at its best! Such a gorgeous elopement at Hervey Bay.
Give me those beach vibes any day as Jessica and Christoff's super intimate elopement was simply divine!
They already had a cute little boy together and wanted to solidify this.
Master S. wasn't in his best mood, but luckily I had this golden egg that I use for distraction, which helped him to calm down.
As Christoff is from South Africa, unfortunately, due to COVID, his family couldn't make it.
Luckily in this day and age, we have technology which is so wonderful as at least they could be there online.
It was quite emotional ceremony. Tears flowed as not having your family and friends around you to celebrate is so hard. I know how difficult this can be it can be, as when I got married I had only my brother here with me at the time.
The couple were very lucky though as thundering clouds came rolling in, but the rain held off so we had this wonderful portrait session with their cute little 18 months old Master S.
I wish this beautiful young family lots of happiness and sweet little moments just as their wedding day!
XxX Karin
Jessica & Christoff's fabulous elopement was made possible by:
Celebrant: Annette