Amazing! Karin photographed my wedding and gosh she is a very talented photographer! She takes the time to get to know you and what your dream is for how you want to remember your day! (Because yes we've all imagined it) Full of energy with a wow-ing personality she captures everything! What you see from her photography profile is 100% what you get! Believe me, we're on there! Couldn't be happier with our choice to have her capture the happiest day of our lives! 10/10! Thanks, Karin!!!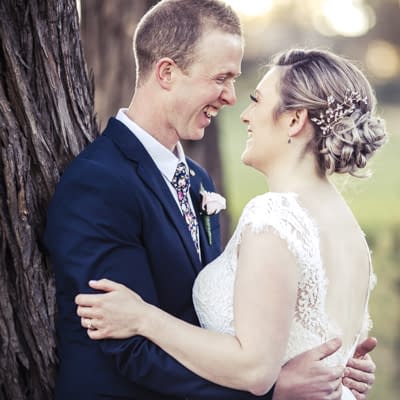 Jo & Sam
Karin took my son's wedding photos on the weekend. She was fantastic, so much energy & charisma. She made us feel so comfortable. The result is in the photos, they are beautiful.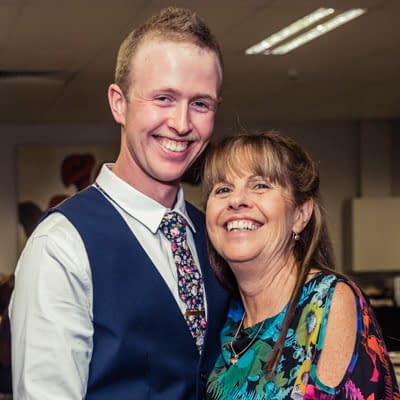 Alison ( Sam's Mum)
Oh my what a fabulous wedding at the Creswick Goldfield Resort in Victoria. The lovely Jo contacted me back in April to see if I would be available for her wedding. When your couple wants to hire you for a wedding all the way in Victoria, how can you not feel honoured! Sam and Jo decided to go ahead with a local photographer but came back in May to see if I was still available as they had second thoughts. You see, it's important to feel comfortable with your photographer, they spend the most time of all vendors with you in the end. Also, you want to hire someone who can handle all kinds of tricky light conditions, so I was overjoyed they changed their mind and went ahead with me instead.
Jo and Sam, they are such a sweet couple who met each other funnily enough through work. Sam was Jo's boss and nothing happened as they were both in a relationship at the time. Somehow things were meant to be as both relationships fell apart and they started dating each other. Their first date was a trip to the Great Ocean Road and before they knew it, they were inseparable. 2019 was a doubly lucky year as not only were they getting married, but Jo found out she was pregnant too. On their wedding day, Jo was about 8 months and I have never met a bride not only looking radiant but also being so calm on one of her most important days.
It was a beautiful sunny but slightly cold winters day in Creswick. The couple were very fortunate as the day before it was literally pouring all day! Jo and Sam hired me for 6 hours and because they were getting ready at the same resort (and luckily enough on the same level), I was able to capture both bride and groom's preparation for them.
Thank you so much, Jo and Sam, for trusting me to capture one of the most important days in your lives! I wish this beautiful family many years of happiness and joy! XxX Karin
Jo & Sam's fabulous day was made possible by:
Venue: RACV Goldfields Resort
Celebrant: Maxine Linane
Make-up: Kimkobeauty
Hair: Salon Boji
Wedding Dress: Melissa E
Bridesmaids Dresses: Forever New
Bride Shoes: I love Billy
Groom & Groomsmen Outfits: Yd
Cake: Pretty Pretty Cake