Oh what a year! What started out as us planning a beautiful medium sized wedding in the Tambourine hinterlands ended up becoming an elopement at the registry and Karin was by far exceptional and accommodating. While we regretfully cancelled our all day wedding photography with Karin for 2021, I couldn't bare not having her photograph our special day... even if it was a registry elopement and being heavily 8 months pregnant. Karin knew how to take the candid moments, and the extremely loved up soppy poses to the moments in between. Karin went above and beyond to make us feel special.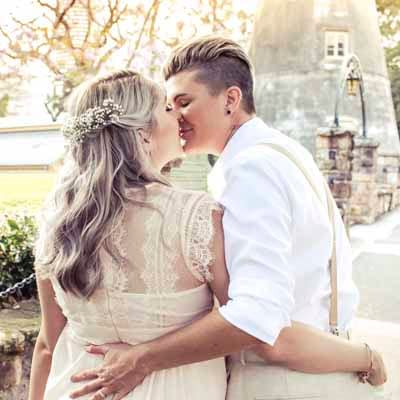 Katrina & Martine
Oh my goodness, everything about this Brisbane registry elopement was just perfect!
Katrina and Martine had big wedding plans for October 2021 when it all with down in shambles. Not only due to personal reasons but even more so, they were expecting!
With COVID still in Australia, Katrina and Martine decided to get married before Master O. arrival and only had their two best friends Amanda and Carly to witness it.
On the day the weather was super sticky and hot in Brisbane but Katrina was a true super trouper and braved it all with true grace and because of it, we have so many beautiful and wonderful sweet little memories for them. You just couldn't wipe the smiles off Matrine and Katrina's faces and I loved how these girls were just so smitten with each other.
This wonderful elopement just shows again that you don't need to have a big wedding to get married. What's important is your love and commitment to each other. I just loved how simple this marriage was as the couple really focused on each other and we just had the most magnificent day together. They're planning to have a big celebration somewhere down the track later this year.
I offer all kinds of packages so there's always something for someone. 💖 Master O. has arrived in the meantime so I want to wish Katrina and Martine all the best in the world and enjoy your little precious as much as you can, as they grow up so quickly (coming from a mum who's baby has just turned 12 lol.) XxX Karin
Kartine and Matrine's fabulous wedding was made possible by:
Ceremony: Brisbane Registry
Flowers: Wallflower
Wedding Bands: Michael Hill