Positive: Professionalism, Quality, Responsiveness, Value. Karin@Karisma Studios is an amazingly talented and professional photographer who I would recommend to anyone looking to have amazing photos of your special moments. A lot of photographers can take great pictures but Karin takes a quick moment and makes it last a lifetime with her unique style and eye, producing absolutely stunning images. She helped make our wedding day exceptional whilst making everyone present feel comfortable and at ease while she snapped away. I will proudly display her photos in our home not just for their specialness but also because they are truly outstanding x Kel & Steve.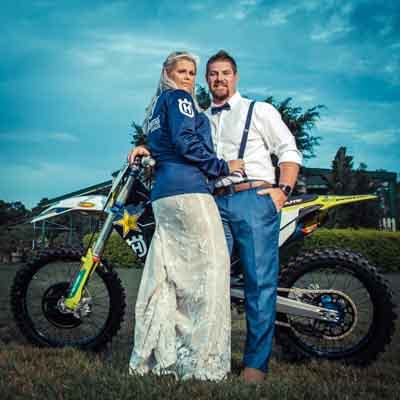 Kelly & Steve
I had the absolute pleasure to be part of Kelly & Steve's wonderful wedding at their private property near Hervey Bay.
Kelly stayed the night before at the Allegra hotel and with only her mum and daughter there, it was such a great start of the day. The thing is the more people, the more stressful your prep can be so seeing only three people there was such a nice pace.
Kelly looked like a million bucks in her stunning mocha wedding dress. She could hardly wait to say "I do" to her motor bike-loving prince!
With the boys I only had to photograph the last bit of prep before Kelly would arrive in a cool Monaro.
She had asked me to do a first look with her son and boy oh boy that was such an emotional moment. Tears flowed freely and it was so beautiful to watch this touching moment between mother and son.
The weather was not looking great at all, with rain all morning. Luckily for my lovely couple, the heavens stayed pretty much dry for their ceremony and family photos. We had a bit of sprinkle during our portrait session, but that didn't deter them at all.
The couple had hired a marquee for their reception and good job they did as it started to rain again in the night. Kelly's daughter performed a beautiful piece on her guitar and the newlyweds were so proud of her as you can see in the photos.
As the night ended Kelly and Steve were keen for some of those wonderful night-time photos that I love to do and to say this wedding was such a great success is an understatement.
They booked my 7-hour package for their special occasion, which covers bride prep, some groom prep (if it's not in the same place) till a couple of hours into reception.
We had an awesome time and I wish my beautiful couple lots of love and happiness in their married life together! XxX Karin
Kelly & Steve's magnificent day was made possible by:
Kelly Prep: Grand Mercure Allegra
Celebrant: Cheryl Kidd
Make-up: My House of Beauty by Ash
Hair: Sass Organic Hair
Brides Dress: Luv Bridal and Formal
Flowers: Ginger Says
Cake: Carolyn's Cake
Entertainment: Mark Lavender