What an amazing human to work with, Karin Halsall captured all those special unique moment with every step was an opportunity. Reviewing our portfolio brings back all the emotions of our special day. We highly recommend you call Karin for you own amazing experience. Thanks N&M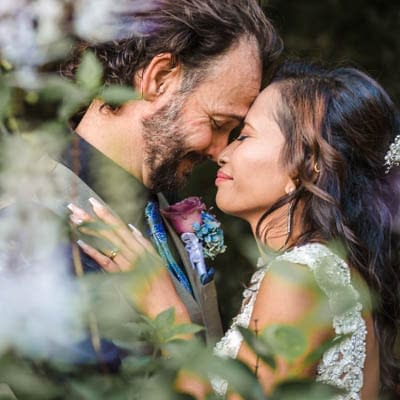 Mariana & Nate
My oh my, Secrets on the lake which is located in the Sunshine Coast Hinterlands in Montville never seems to disappoint! This time it was Mariana and Nate's gorgeous wedding.
It's already been a strange year with lots of couples still booking this year's weddings with only a window of a few months, and Nate and Mariana were no strangers to this too. In fact, I was contacted by Nate only about a week before the wedding to see if I was available for their date and luckily I was.
As Mariana is originally from Indonesia, the couple decided to have their wedding first here in Australia and then next year having a big wedding in Timor.
The weather on the day seemed to be a bit scatty as we had a few spits early in the morning, but luck was definitely on my couples side as even though clouds were looming, it stayed dry for the rest of the day.
Nate and Mariana had their cute Australian Stumpy Cattle Dog Enki as their ringbearer which was such an awesome idea! After the ceremony the couple only wanted portraits by themselves, which was so lovely,  as they could really focus on their love for each other. 
Mariana and Nate hired me for 5 hours, which covers getting ready, ceremony,  family and portraits and a little bit of reception. 
I wish Mariana and Nate a beautiful marriage with lots of love, laughter and romantic moments just like their wedding day! XxX Karin
Mariana & Nate's fabulous wedding was made possible by: