Positive: Professionalism, Quality, Responsiveness, Value. I have loved and followed Karin's beautiful work for quite a few years, so there was no question that I would choose her for my recent wedding and we are both thrilled with our photos. Karin met with us and discussed at length our ideas and priorities for the day, and also gave us some great ideas that we hadn't yet considered. Even though the weather wasn't ideal, she used it to her advantage and captured some gorgeous shots regardless of the rain and dark sky. We had lots guests comment after the wedding how impressed they were with Karin's relaxed, fun, yet professional approach to capturing the day, and a few wanting her details so that they could contact her for upcoming events in their lives. We have plans for a special shoot on our first wedding anniversary, and Karin was very into working with us and our ideas for this. I would definitely recommend Karisma Studios for any type of photography you require.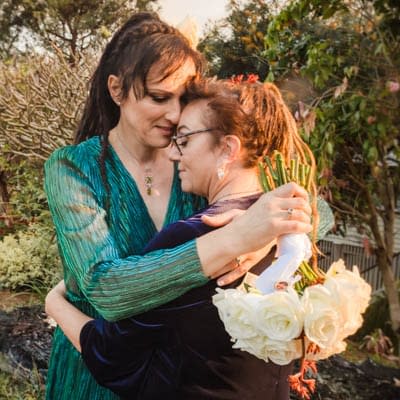 Marni & Siobhan
Wow wow wow, what a wedding day, even the rain couldn't stop Marni and Siobhan from getting married at Marni's brother farm in Kin Kin! 
What started as a fairly dry morning, quickly turned around by 3pm, which was ceremony time. Big clouds came in and these two stunners were braving the rain. It didn't matter as they had only eyes for each other!
From the gorgeous dresses to the cute red kangaroo paw ((for the foreigners, it's a plant, not the animal paw) in the white bouquet of roses, everything was beautifully chosen and complimented each other so well.
I have known Marni for over 7 years now as she's actually my lovely friend who keeps my crazy dreads in check!
Back then, we were both living in Townsville, but in the meantime, we both moved and live here now down South.
This is where she found true love and I'm so happy for her!
Initially, I wasn't able to photograph their beautiful day as I was already booked for a different wedding, but fate (my other wedding is postponed till September 2022) had different plans for us, so you can imagine our joy.
The girls hired me for 5 hours, which was perfect to cover most of their beautiful love story. I wish these beautiful souls, lots of happiness, love, and joy in their life just as much as it was on their wedding day! XxX Karin
Marni & Siobhan's fabulous wedding was made possible by:
Marni's Dress:
Doggies outfit: