Positive: Professionalism, Quality, Responsiveness, Value. What an amazing photographer! Karin is such an amazing soul and goes above and beyond to help get that perfect shot. She was climbing on chairs and furniture, twisting herself to get a better angle. Imaginative effects and special attention to detail made her so worth while! xxx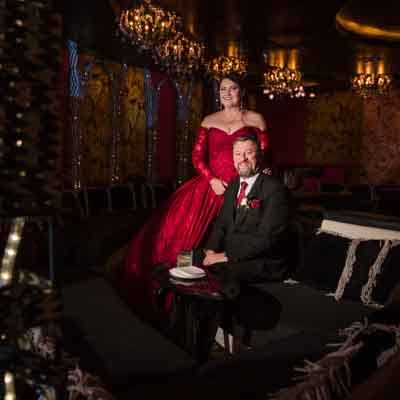 Michelle & Tony
What a stunning Brisbane night-time wedding as Michelle and Tony are a couple who like to do things their way.
Not only did they decide to get married in the evening, but Michelle wore this out of this world ravishing red wedding gown. With her stunning jewellery and gorgeous black shoes to complete it all, she looked like a million bucks! Their guests were instructed to wear black and white, so when Michelle told me all this, I could barely sit in my chair from excitement.
As COVID was still in play most of their family couldn't make it from down South, so instead they celebrated it with all their kids and friends. They opted for a private ceremony with only their closest of friends and Michelle's daughter Lillian to give Michelle away.
Cloudland never disappoints me, so it was great to be back again. As it was already night, it gave me a great opportunity to get creative with my flashes (which I'm always totally down for!)
The couple only desired a few lovely creative photos as they  wanted more photos with their loved ones instead. It was such a wonderful night with people having a great time doing a boogie on the dancefloor.
I offer many different packages as I believe no 2 weddings are the same, so check out the link.
I wish my gorgeous couple lots of happiness and love. XxX Karin
Michelle & Tony's fabulous day was made possible by: