Karin is an amazing photographer. She photographed my wedding recently and the result was perfect. She was able to capture the essence and love of the day. Plus she was like a ninja during the ceremony 😃 The ceremony started and I didn't even realise she captured so many perfect pictures of everything and everyone at the ceremony. The end photos turned out amazing. Thank you so much for helping this awkward couple feel at ease during the whole process.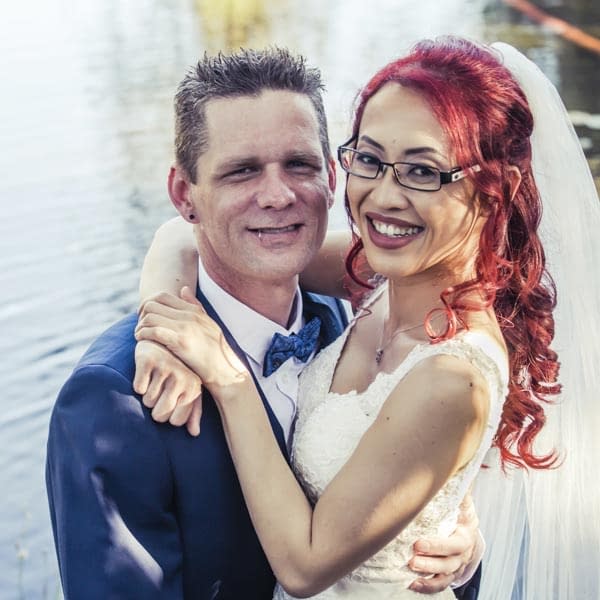 Mimi & Kieren
This Maryborough backyard elopement was such a huge success!
Elopements are great for couples who want to celebrate their love with a small bunch of their loved ones. Mimi contacted me and explained to me that Kieren, as well as Mimi, were quite shy people. This was even more so in front of the camera. Another thing she mentioned was that they prefer a lot of natural and candid style photos rather than overly posed ones. Not a problem at all as I'm very flexible and always go with what my clients want for their day.
We agreed to meet up at Queens gardens where Mimi and Kieren opted to do things a bit differently. They decided to have their portrait session before their ceremony. They wanted a late ceremony (5.15 pm) and this way they could do a first look instead.
A "first look" is when a couple decides to capture the emotion of the first time they see each other on their wedding day. It's great for couples who want to spend some quiet time together before the ceremony. Also, if you're nervous, having a first look and seeing your partner is a great way to ease that feeling too.
We had this amazing session, as Mimi was wearing a stunning cathedral veil. This gave us plenty of ways to have a play with it (the wind helped us a lot too lol), which helped put the couple even more at ease. After our portrait session, we headed to Kieren's parent's house as the ceremony was conducted on their private property.
The ceremony was short and sweet. After all the formalities we managed to have time to have a play with some smoke bombs. I would always recommend using smoke bombs later in the day, to get the maximum out of them. The colours will look so much better against the darkness of the sky (with a bit of help of my speed light). Plus it also creates a more intimate feeling. 
I wish this sweet couple many years of happiness and joy together!  XxX Karin
Mimi and Kieren's fabulous wedding was made possible by:
Celebrant: Leora Kirk
Make-up & Hair: Mon'roe Collective
Wedding Dress: Bridal Mall Couture
Fashion Designer: Sew Bespoke
Smoke Bombs: Coloured Smoke