Karin was lovely and very professional. Definitely recommend. The photos are beautiful and we're so thankful for all your hard work and putting up with us.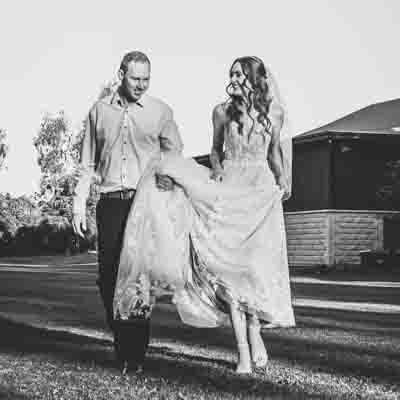 Rachel & Darcy
Meet Rachel and Darcy, such a sweet and lovely wedding couple who got married at the gorgeous Platypus Park in Bundaberg!
What a fabulous day and how wonderful is it to be back in Bundaberg again. Rachel and Darcy met each other about two years ago at church and while it was pretty much love at first sight for Darcy, it took Rachel a bit longer to warm up. Two years later and now these two lovebirds are so in love with each other! When Darcy  proposed to Rachel, he had a stunner of an engagement ring specially made for her.
When I arrived at the venue, I loved how well-manicured and gorgeous the gardens were. The girls were already super busy getting ready and Rachel was wearing a gorgeous mocha coloured wedding dress which suited her skin and figure so perfectly.
Both a bit reserved and shy, they told me they can be a bit awkward in front of the camera. I told my cute couple not to worry as I always have plenty of tricks up my sleeve to make my couple feel happy and relaxed. I reckon by the looks at the photos we succeeded and more.
Rachel and Darcy hired me for 6 hours, which is perfect if you would like to have bride prep up to the first hour of reception covered.
I wish my lovely couple lots of happiness and love in their marriage! XxX Karin
Rachel & Darcy's magnificent day was made possible by:
Celebrant: Rachel's Father