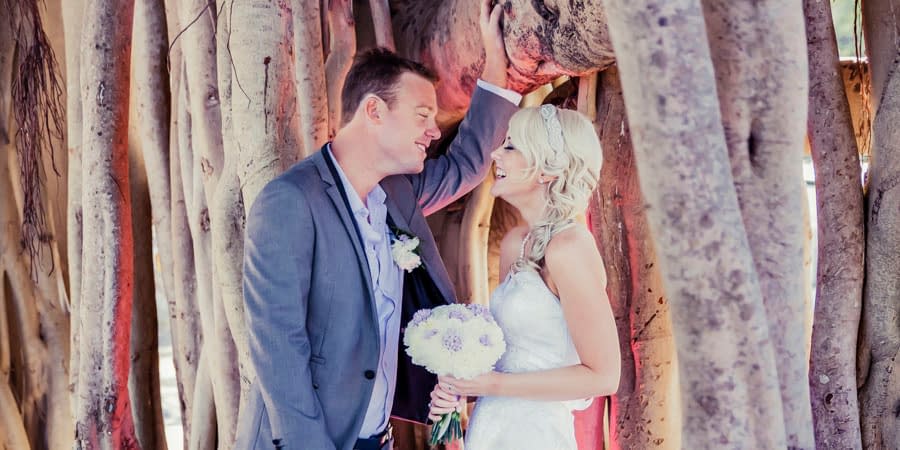 Karin at Karisma Studios did our Wedding photos to our Family photos, just amazing!!! Our wedding I couldn't have been happier really captured such special moments and the whole day perfectly. Everything I wanted and more. As you can see from our photos, Karin went above and beyond to capture it all. Very professional and easy to work with and it was all about what we wanted on the day. I couldn't recommend her enough and everything she did add to our day being special. Our photos on the day was a really wonderful experience. Everyone made comments on them, especially our tug a war photo on the beach. We have also had two family shoots, that I just love and captured very special moments. We will use Karisma Studios again for any special occasions or family photos. If you are looking for that something special, then this is your lady! Thank you so much for all our beautiful photos!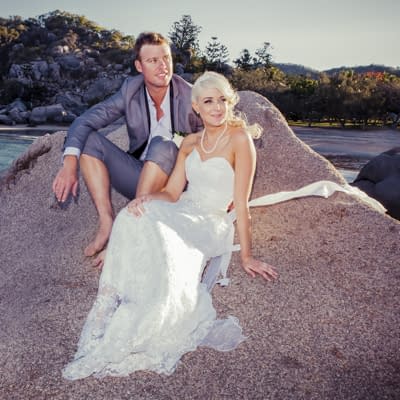 Sarah & Joe
Sarah and Joe's tropical wedding was my 1st destination wedding and it was held on breathtaking Magnetic Island.
"Maggie Island" as the locals call it, is near Townsville. Sarah & Joe are truly some of the nicest people I have ever met!
Sarah and Joe rented out this astonishing holiday home Nahmahlu with a wicked patio and pool.
They exchanged their vows in a touching ceremony. Afterwards, we headed over to another part of this charismatic Island for the location shoot.
Starting at Arcadia Beach we found smashing big rocks to play with, a superb grassy area to be silly, and a delightful bit of flat beach to play tug of war.
Glorious figs trees are located at Geoffrey Bay and a great bunch of palm trees were splendid for our whole group shots.
Last but not least we went to Horseshoe Bay and were just in time to take some striking shots with the sun going down.
Happy Anniversary Sarah and Joe, it was such an awesome day full of joy, love and great moments, what a fantastic island wedding.
Here's only a very small selection of this memorable day to give you an idea of how fantastic and fun this day was. XxX Karin
Holiday Home: Nahmahlu