We had actually already booked someone else before finding Karin, and after having a few doubts managed to stumble across this website. After shooting our epic engagement photos, Karin is not only energetic but she is creative and up for anything! which is exactly what we were looking for in a photographer. We cannot wait for her to shoot our big day! No regrets!!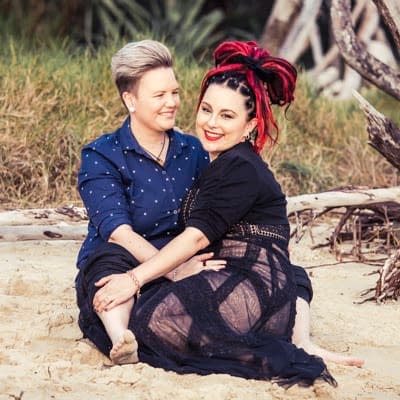 Jackie & Simone
Oh my, this Noosa Beach engagement session was out of this world! Meet Simone and Jackie, two of the coolest women I have met in a while. These 2 gorgeous girls were totally rocking the session. What I loved about them was that they were totally open for some cool techniques as the sun was setting for the night. I can highly suggest to have a Noosa Beach engagement session as you have not only the beach, but also the boardwalk you can use for photos.
It's so wonderful when you have a couple who loves photos just as much as you do. They are way more open for suggestions to create something out of the ordinary. I always try to combine my sessions with lots of natural and genuine moments but also try to incorporate some true photography craftsmanship. I love combining different styles of photography (natural and flash), especially with the stunning sunset. When you use just natural light, you can't capture the beautiful colours of the sky.
When Simone contacted me a while ago, she had already booked another photographer. As months flew by, Jackie and Simone started to doubt their initial choice. Photography was one of the most important aspects of their day (apart from getting married lol). After searching for a while on the net, they came across my page. Suddenly their decision was quickly made. I was humbled by how they loved my work. I was truly happy they chose me to capture the most important day of their lives!
When you book your photographer for your big day, it's so important to feel comfortable with them. They're one of the only vendors who are with you basically all day! Next month is Simone and Jackie's wedding and I can tell you already, it's going to be EPIC!
Thinking of booking a session with me? Feel free to head over to my "Engagement/Couple" page for all info. XxX Karin