I posted a a Facebook group looking for a photographer for our wedding day for the 19th November 2021. After going through all of the comments and photos I absolutely fell in love with Karin's work and had to have her. Her night time shots are magical and like art and knew this was the woman I had to have and she didn't disappoint. You will not regret hiring Karin and not only is she fantastic in the lead up to your day she keeps in touch after when she is finishing the photos and most importantly the photos are absolutely stunning. It is so lovely that every photo you see she is just as excited to show you. She is so passionate about her work and one of the nicest, funniest ladies you will meet and has complete control on your day. Thank you Karin for the beautiful photos and I can't wait to print and frame and put up everywhere in my house.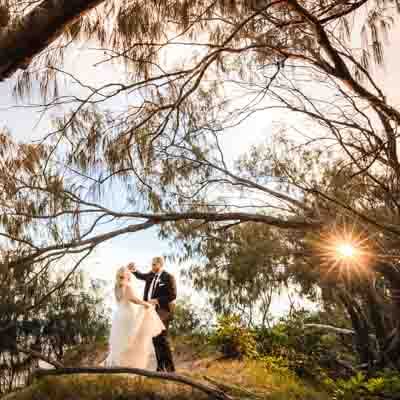 Tamara & Rob
Tamara and Rob's wedding was just so gorgeous at the Kurrawa Surf Club in Broadbeach at the Gold Coast.
What a fabulous wedding and Tamara and Rob are such a lovely couple!
When Tamara contacted me, she told me she was so in love with my photos. You can't get a better compliment than that, as it means you must be doing something right, right? lol
Fast forward many months, and on the big day, Tamara arrived quite emotional, which was so endearing!
Both looked absolutely stunning, but Tamara's wedding dress was just out of this world so gorgeous.
It had this fabulous tulle overskirt which was so beautiful and flowy.
After a heartfelt ceremony we headed to the beach. Rob didn't prefer to walk on bare feet on the sand, which is totally fine as it's their wedding after all, you got to do you!
Tamara was totally keen as a bean.
The couple was extremely lucky with the weather as it was pretty much raining all week, but they had the best weather on the day. The cool thing about their wedding day was that it was the last Lunar Eclipse of the year. This mend the earth's shadow covered 99.1% of the moon's surface and lasted around 6 hours. This eclipse was the longest partial lunar eclipse since the 15th century which is around when Machu Picchu was constructed.
With such a great opportunity as this, we just had to have beautiful kiss photo under the full lunar moon.
If you love what you see,
I offer packages
for all kinds of budgets so let's talk about your fabulous wedding!
I wish Tamara and Rob lots of happiness, love and fun in their marriage! XxX Karin
Tamara & Rob's fabulous day was made possible by: